On 26 April 1941, just off Oahu in the Territory of Hawaii, flight quarters had sounded and the P-40s were warming up as the U.S. Navy aircraft carrier turned into the wind in preparation to launch aircraft. What's this, Army Air Corp P-40s on a Navy Carrier? As far-fetched as it may seem today, it really wasn't unusual for the Army to transport and deliver fighter planes in this manner before and during WWII.
With the ship steaming into the prevailing wind, the combined ship speed and wind velocity produced a 35-knot wind over the flight deck. The pilots had had no previous training or carrier experience before that moment. They were simply briefed and assured that, "Yes, the P-40 can do it." And do it they did, for once the throttle was firewalled and the brakes released, there was no turning back. One by one, as the 55 planes revved up and were launched, they circled the ship, formed up and flew to the base at Wheeler Field on Oahu T.H., their new home. In this flight was one particular P-40B, serial number 41-13297, and while -297 had a rather short flight life, it was to become a truly historic aircraft.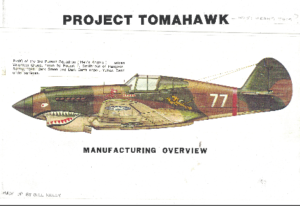 41-13297 (hereafter referred to as -297) was the first aircraft built in the second and last production run of a total 131 P-40B aircraft built. It was accepted for service by the United States Army Air Corp (USAAC) at Hamilton Field, California on 19 March 1941. It was powered with an Allison V1710-33 liquid-cooled, single-stage/single-speed, supercharger with an epicentric prop reduction gear, two .50 calibre Browning machine guns mounted in the fuselage and two .30 calibre Brownings in each wing. Cost of the aircraft was $39,298 minus government furnished equipment (G.F.E.) which consisted of engine, armament, and radio gear.
The P-40 series came into existence in 1938 when Curtiss Wright decided to become more competitive in the pursuit aircraft business. The Seversky P-35 and Curtiss' own P-36 Hawk (called Mohawk by the British) were the top of the line state of the art fighters in the USAAC inventory at that time. The Messersmidt 109, Hawker Hurricane, and Supermarine Spitfire were Europe's best, and the Japanese Zero was just around the corner. In 1938 the 10th production P-36A was pulled off the production line when Curtiss Wright decided to use the more streamlined liquid cooled Allison V1710 V-12 engine. This engine configuration was the type that European designers were using in the vast majority of their current fighters. The change resulted in a nearly 50 mph increase over the radial engine P-36s' performance despite a substantial weight increase. The Army was definitely impressed by the October 1938 test flights and ordered 525 aircraft, the largest single order made by them since WWI. The export market was likewise impressed and of the 1,705 early P-40s produced, 1180 were sold overseas, mostly to Britain.
Although architecturally identical, there were numerous changes made to the fuselage in order to strengthen it. The P-36 tended to develop wrinkles in the lower forward part of the fuselage during high G pullouts from high-speed dives. This was a problem that was never fully solved until added interior bulkheads, stringers, and thicker skins were installed in the H81 series. The skin wrinkling never occurred in the P-40s even though they were capable of dive speeds nearly 85 mph faster than the H75/P-36 series.
Our subject aircraft (-297), soon settled into routine squadron activities and operations with the 73rd Pursuit Squadron of the 18th Pursuit Group based at Wheeler Field. This was a new, hot aircraft for everyone there, replacing the famed but very obsolete Boeing P-26 Peashooter and supplementing the obsolescent P-36 Hawks already based there. -297's log offers little detail as to its flight activity and it might have spent a good part of its early life as a maintenance trainer for ground crews. However, on 28 October 1941 it was damaged in a landing accident while being flown by 1st Lt. Cecil J. Locke. It is not known exactly when the aircraft was repaired nor where it was on 7 December during the Japanese attack, but the log indicates that it did fly that month. During an interview with a 73rd Pursuit Squadron crew chief, he recalled that all of the P-40s from that squadron were destroyed during the attack as they were all lined up on the ramp – except one. That one remaining P-40 could have been -297, or -297 may have been detached from the 73rd P.S. awaiting replacement parts and was in a hangar. There were certainly plenty of spare parts laying around after the attack!
By January 1942, -297 had apparently been reassigned to the 6th P.S. when 1st Lt Kenneth Wayne Sprankle, an experienced pursuit pilot took off on the 24th of that month for his initial checkout in the P-40B. Forty-five minutes into the flight, Lt. Sprankle was observed entering into an inverted spin during an aerobatic maneuver. High time P-40 pilots tell us that it usually required about 8000 feet to recover from such a predicament. Unfortunately, Lt. Sprankle was only about 6000 feet above the terrain. He was killed in the resulting crash. His body was promptly recovered and the accident report completed by 1900 hours that same evening.
The wreckage of -297 lay in the jungled Koolau mountains north of Honolulu for over 43 years when in March 1985 the first recovery efforts were successful in airlifting portions of the aircraft out. Later expeditions brought out most of what remained.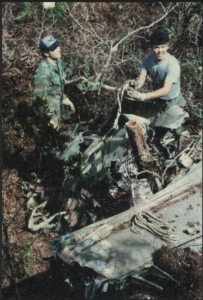 Working with the initial recovery team was Michael Fortner, whose dream of restoring a Tomahawk had driven him for over 20 years, since about the age of 17. At this age he had received a cash Christmas present from his sister and spent it purchasing a partial set of blueprints for the aircraft from the archives at the Smithsonian Air and Space Museum where most if not all of the now defunct aircraft manufacturing division of Curtiss Wright had wound up. In March 1989, fortune/fate brought together an equally enthusiastic Tomahawk fan to Mike's attention in the person of Kent Lentz. They soon formed the Curtiss Wright Historical Association, Project Tomahawk, Inc., and a 'not for profit' public education, tax-exempt foundation, which was incorporated in the State of California in 1990. Mike, as an ex-Air Force electronics technician, was at this time employed by General Telephone as a lineman while attending college at Cal. State to obtain a degree. He had a great talent for researching, locating, and acquiring P-40 material from all around the globe.
Kent's forte was as an aerospace tooling and parts fabricator, with experience in precision machining, welding, and sheet metal work to very high standards. The prospect of restoring/remanufacturing -297 was exciting rather than daunting to him, since he already had been involved in restoring several other historic aircraft as well as having been involved for several years in other WWII projects at Ed Maloney's 'Planes of Fame' museum during the 1960s, then going on to the Saturn Apollo 'man to the moon' project in the mid-60s, which culminated in man's first moon landing on 20 July 1969.
CWHA-Project Tomahawk eventually had over a hundred members, a group of interesting and talented people, many of whom were involved in the aircraft industry and were active participants in the recovery and restoration processes.
Needless to say, this group really had their work cut out for them. Not only were there few pieces or parts available for the early Tomahawk series, but much of the material from -297 had suffered from intergranular corrosion in the tropical mountains of Hawaii and were simply beyond restoration to an airworthiness condition. Crash damage had been severe, and having been left to the not-so-tender mercies of the elements for 43 years, hadn't been conducive to preservation. In spite of all that, many vital parts were salvageable or extremely valuable as pattern material.
Soon after Mike and Kent joined forces they learned of several early P-40s that had crashed into the mountains of California's Sierra Nevadas on 24 October 1941. The wreckage of some of these aircraft had lain virtually untouched since that time. Careful research and sleuthing by the pair was followed by a helicopter recon mission in mid-1989 that resulted in finding the location of two of the downed P-40s: S/N 38-285 and S/N 39-287. S/N 39-287 was in an extremely barren and isolated area at an elevation of 11,500 feet. S/N 39-285 was found at a much more accessible location at about a 7,500-foot elevation.
The highsite Tomahawk (-287) had carried Lt. Richard Long to his death during a snow storm on that fateful day. Lt. Long had originally been scheduled to be married on this day but had had to postpone the wedding due to being assigned to a large air defense exercise being carried out around the Seattle, Washington area just prior to the outbreak of WWII. He was on a temporary duty assignment to the 57th Pursuit Group based at Windsor Lockes, Connecticut and the group was on one of the last of a series of hops that was to take them from March AAFB to McClellen Field in Sacramento, when the group became scattered and disoriented while enroute. The tragic result was the loss of five aircraft and the death of two pilots. It wasn't until 1959 when come hikers came upon the wreckage and reported it to the park rangers of Kings Canyon National Park. Lt. Long's remains were collected and removed and no one else had visited the crash site until 1989 when Mike and Kent scouted it via helicopter and began serious recovery efforts.
39-287 was very heavily damaged and nearly totally destroyed, but like the Hawaii aircraft, there was actually quite a bit of usable material as well as pattern pieces. Impact speed was estimated at between 350-400 mph at a 70-degree angle into a solid granite boulder field. Wreckage was not widely scattered and the debris field was not much more than 100 feet in diameter. Evidence indicated that when the nose of the aircraft struck the ground that one of the cowl-mounted .50 calibre Browning machine guns struck with such force that it pierced a boulder and bent at a 90-degree angle and was nearly impossible to extricate. The barrel of the other .50 calibre Browning was also bent about the same but was laying loose nearby.
Because of the altitude and prevailing climate at the site, the aluminum sheet metal was as shiny as the day it left the factory. Painted pieces not exposed to direct sunlight looked as though new. Steel components didn't fare quite so well and showed considerably more corrosion. In spite of the badly smashed condition of the airframe, many parts were salvaged and usable as collected.
It was hoped that all of -287 would be collected on one recovery expedition but, alas, that was not to be. With only about 20% of the aircraft recovered, the helicopter developed a transmission problem and the mission had to be recalled early. It was not until 18 July 1992 that the last remnants of -287 were brought out, again by helicopter and accounting for approximately 90% of the aircraft.
Another P-40 Tomahawk (S/N 39-285), which was part of the ill-fated 24 October 1941 flight, was discovered early on after the crash. It, too, was basically destroyed after Lt. Jack West bailed out during the storm. During Project Tomahawk's interview with Jack in 1989, he related that he had entered the clouds at about 17,000 feet altitude more or less in formation with Lt.s Long, Leonard Lydon, and W.H. Birrel. West's engine began losing power due to carburetor ice (the carburetor heat mechanism had been deactivated due to some earlier problems) and then started cutting off and on. West next found himself in a spin due to his engine problems and the turbulence inside the storm clouds and when he broke out of the bottom of the cloud deck, he was going straight down and saw "lots of rock," opened the canopy, stepped on the instrument panel and bailed out.
He immediately opened his chute, it blossomed, swung one time and snagged in a pine tree. It was a split-second survival. His Tomahawk went straight in with a terrific explosion not 75 feet from where he came to rest dangling from the tree just a few feet from the ground. Lt. West was rescued eight days later along with Lt. Lydon, who had also bailed out, survived a harrowing landing on a very steep mountain side and an extremely difficult two-day trek where he linked up with Lt. West. The two of them had found a partially collapsed log cabin and after a couple of attempts to hike out, were spotted by a search and rescue plane that directed a horseback team to them. So, after eight days they were rescued and not much the worse for wear after all was said and done. Lt. Lydon's Tomahawk has never been found. Lt. Birrel was killed when his P-40 crashed near Bass Lake, California.
The wreckage of Lt. West's Tomahawk was relatively accessible, being very close to a well-used hiking trail in King's Canyon National Park that paralleled the Roaring River in, ironically, Dead Man's Canyon. Much of the plane had been scavenged, vandalized, or scattered over the years, but with all that, there was still a lot of usable and valuable material to be had. In spite of that situation, Project Tomahawk mounted a horseback and mule train recovery expedition during the summer of 1990 in hopes of finding something of value, and they were not to be disappointed, for a great deal of material was indeed recovered and they returned with twelve loaded mules and a lot of sore butts. The pack train operator later brought out an additional ten mule loads of bagged material.
It must be pointed out here that without the full cooperation of the U.S. Forestry and National Park Services, our recovery efforts simply would not have been possible. It was mutually agreed at the outset that, in return for their help, we would in turn remove all locatable material from the National Forest. And this, Project Tomahawk did, with two minor exceptions. At each site, a small memorial was erected using some of the heavier pieces of the engine and propeller blades, and at Lt. Long's site, a small stone cairn commemorating his sacrifice. All in all, it required approximately six helicopter scouting and recovery missions, as well as two horseback and mule train expeditions spread over a seven-year time period to gather this invaluable material, and these efforts provided a great deal of real adventure to the project.
What followed were years of meticulous and at times tedious research in order to design and build the tooling and assembly fixtures necessary for essentially remanufacturing the aircraft. Project Tomahawk first had to acquire a shop large enough to build the plane, which was generously donated by the City of Torrance, CA. it was located at Torrance's Zamperini Field/Torrance Municipal Airport. The shop was then built and equipped with the necessary machines and tools, generously donated by the Hi Shear Corporation of Torrance, CA, as well as by Project members. While all of the acquisition and building was going on, P.T. members built a full-scale wooden mockup of the fuselage in order to verify the accuracy of what limited blueprints we had, as well as to use in our various fund-raising endeavors.
It was an incredibly busy and fulfilling time involving nearly a hundred very enthusiastic volunteers and the importance of these people simply cannot be overstated. We will try to credit as many of them as possible in the acknowledgements to follow. To any of those we miss (which we are bound to do) our most heartfelt thanks to you all.
Written by Ralph Baxter, Co-Founder CWH-PT, Inc.
Edited by Kent Lentz, Co-Founder CWH-PT, Inc.